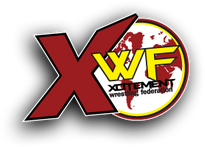 Xcitement Wrestling Federation (XWF) was an American professional wrestling promotion. The organization's heyday was from early November 2001 to late February 2002. Its birth coincided with the World Wrestling Federation's acquisition of AOL Time Warner's World Championship Wrestling. XWF's slogan was "No more prima donnas, no more politics... In your face!". They looked to promote a product that the whole family could watch and enjoy by bringing back pro-wrestling storylines with a 21st-century spin as an alternative to sports entertainment.
The previous number two and three American promotions, the aforementioned World Championship Wrestling and Extreme Championship Wrestling, had folded earlier in 2001, leaving only one national wrestling company. As such, the letter "X" in XWF stood for the missing variable in the sport. The official definition of the "X" became Xcitement as cited by "Mean" Gene Okerlund in the Extras on the XWF DVD and not "Xtreme" as sometimes written.
Return To
Community content is available under
CC-BY-SA
unless otherwise noted.