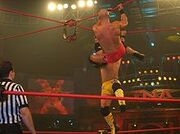 Since its origin, TNA has featured a high-flying, high risk style of wrestling known as its X Division. Rather than emphasizing the fact that most wrestlers who perform this style are under 220 lb (100 kg) by calling it a cruiserweight division, TNA decided to emphasize the high risk nature of the moves that these wrestlers perform, removing all restraints on its wrestlers, allowing them to perform almost stunt like wrestling moves.[citation needed]
Originally, there was no upper weight limit on the X Division or its title, though in practice, most of the wrestlers in this division have been cruiserweights, with Samoa Joe, billed at 280 lb (130 kg), Kurt Angle, billed at 230 lb (100 kg), and Abyss, billed at 350 lb (160 kg), being notable exceptions. To further emphasize this point, the slogan "It's not about weight limits, it's about no limits" was used to describe the division.[citation needed] Although it was de-emphasized throughout 2007, the X Division is generally regarded as one of the key attractions of TNA and was replicated in several other promotions. In August 2011, the division was given a 225 lb (102 kg) weight limit. This was quietly repealed in March 2012. In March 2013, Dixie Carter announced new rule changes to the X Division with a new weight limit of 230 lbs. and all X Division matches being triple threat matches. In August 2013, all X Division matches were reverted to single matches and the weight limit was repealed once more.
See Also
Community content is available under
CC-BY-SA
unless otherwise noted.