Jurassic World: Dominion Dominates Fandom Wikis - The Loop
Play Sound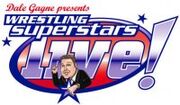 Wrestling Superstars Live was a governing body for a group of independent professional wrestling promotions and sanctioned various championships. It was founded in 1996 by Dale Gagner and Jonnie Stewart.
History
In 1996, Dale Gagner and his associate Jonnie Stewart, former American Wrestling Association (AWA) employees, legally began using the AWA name in the state of Minnesota with the authorization from the Minnesota Secretary of State and formed an organization known as AWA Superstars of Wrestling. They began trading off the organization as something of a continuation of the American Wrestling Association, which closed down in 1991. Dale Gagner even began using the pseudonym "Dale Gagne", (removing the letter "r" from his name). This was in reference to Verne Gagne, the original owner of the American Wrestling Association.
By 2005, the organization began to franchise the AWA Superstars of Wrestling name, selling memberships to existing independent promotions around the United States, Canada, United Kingdom and Japan. Several members of AWA Superstars of Wrestling were former members of the National Wrestling Alliance. In 2007, most of the memberships were terminated, and Gagner and Stewart began co-promoting shows with a small number of regional promoters instead.
Lawsuit, renaming and reorganization
On April 26, 2007 World Wrestling Entertainment (WWE) filed a lawsuit against Dale Gagner alone, citing trademark infringement, as WWE owned all American Wrestling Association properties due to their purchase after the AWA's closure. In a move to sidestep WWE, Jonnie Stewart, with the help of a Chicago based copyright law firm, attempted to trademark the name "American Wrestling Alliance" instead. However, The United States Patent and Trademark Office later indicated that the request was abandoned in February 2008.
On October 29, 2008, the court ruled in favor of WWE. The court ruling prohibits Gagner and his associate from exploiting or trading on the AWA name or any other derivatives. As a result, the organization was renamed to Wrestling Superstars Live. In a press release sent out October 30, 2007, the organization announced that it will no longer sanction independent territories. Gagner and Stewart noted that each of the remaining territories would be individually assessed.
Championships
When the organization was formed in 1996, Wrestling Superstars Live claimed the lineages and names of original American Wrestling Association championships. However, following WWE's filed lawsuit against Gagner and Stewart, Wrestling Superstars Live's references to the AWA became prohibited. Due to there being no connection to the American Wrestling Association, Wrestling Superstars Live championship reigns are recognized from 1996 and forward.
Return To