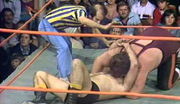 World Championship Wrestling was an Australian professional wrestling promotion that ran from 1964 until 1978. The promotion gained valuable publicity through televising programs through the Nine Network which was presented at noon on Saturdays and Sundays.
An average of 6,500 people attended in the first 3 months of the promotion's existence, a crowd of 8,000 attended a show on 7 November in Melbourne when the first title change in the new promotion took place as Dominic De Nucci defeated Killer Kowalski. WCW also promoted throughout Southeast Asia, particularly in Singapore and Hong Kong.
When WCW began operations in 1964, the promotion created the International Wrestling Alliance as a sanctioning body for WCW's original championships, the IWA World Heavyweight and World Tag Team Championships. WCW joined the National Wrestling Alliance in August 1969, but they continued to recognize the IWA World championships until 1971, when they were abandoned in favor of new NWA-sanctioned title.
In 1978, the Nine Network ceased coverage of WCW; with no TV coverage promoters were facing financial ruin, thus the death of the glory days of professional wrestling in Australia. The "World Championship Wrestling" name was later revived by Georgia Championship Wrestling in the United States for its own TV program, which became the roots of the American promotion later known by the same name.
A documentary about the promotion was released in 2007 called "Ruff, Tuff N Real".
Championships
IWA-sanctioned championships
IWA World Heavyweight Championship - October 1964 to 1971
IWA World Tag Team Championship Kurt and Karl Von Steiger - June 1966 to 1971
NWA-sanctioned championships
NWA Austra-Asian Heavyweight Championship - 28 April 1972 to December 1978
NWA Austra-Asian Tag Team Championship - 2 December 1972 to December 1978
Return To