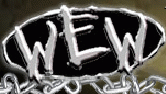 Women's Extreme Wrestling (WEW), also known as Women's Erotic Wrestling, was an all-woman professional wrestling promotion Founded and created by Dan Kowal former ECW Extreme Championship Wrestling Promoter, who had been credited with igniting women's wrestling because of its innovative sexy hardcore style, WEW was based in the Philadelphia, Pennsylvania with offices in New York City, New York. They were notable because their storylines usually were filled with erotic and sexual themes. Due to the shows having adult sexual content, many of those that attend WEW's live shows had to be at least 21 years old.
WEW hosted its shows on pay-per-view at The Arena, the former home of Extreme Championship Wrestling. Former arenas that used to host the show are The Electric Factory in Philadelphia, Pennsylvania and at The Centerstage in Atlanta, Georgia. The promotion usually did three shows a year, one in the spring, one in the fall and one in the winter. On some rare occasions, they had shows in the summer, like in 2007. These events were taped for pay-per-view, in which usually they taped two pay-per-views or on some occasions three pay-per-views at an event.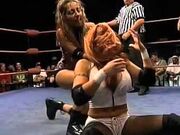 WEW made attempts to secure female wrestlers from all around the world. In addition to this, WEW attracted a large number of adult performers such as Fujiko Kano, Taylor St. Claire, and many others. Notable alumni included WWE Divas Mickie James (under the ring name Alexis Laree), Jazz, Shelly Martinez, Jackie Gayda, and TNA Knockouts Velvet Sky (under the ring name Talia Madison) and Traci Brooks.
The promotion was also known for being one of America's few hardcore all-female wrestling companies. WEW offered matches usually performed by male wrestlers, including flaming tables matches, strap matches and TLC matches, and also introduced numerous sexual elements to matches, such as the WEW's "Adult Entertainer Oil Rumble Battle Royal Elimination Match", "Stripper Pole Dance Off Contest" and the "Winner Gets The Ho" Match (usually involves a wrestler with 'ho' in their name).
In 2008, the promotion went defunct, after original founder Dan Kowal retired from WEW and the wrestling industry, it still offers taped matches on DVD and digital download.

Championships
WEW World Championship
WEW Tag Team Championship
WEW Hardcore Championship
See Also