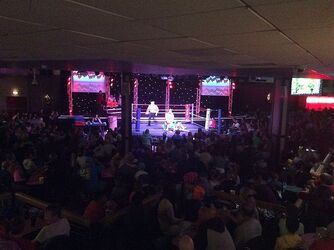 Welsh Wrestling is the only national Welsh professional wrestling promotion. Neath-based Alan Ravenhill is the founder and promoter of the group, which was established in 2004 and holds live events all across the country.
Grand Slam Wrestling
Welsh Wrestling also hold wrestling events in England under the Grand Slam Wrestling banner, in towns including Abingdon, Bude, Banbury, Brackley, Cheltenham, Crewe, Colne, Congleton, Craven Arms, Didcot, Eastbourne, Henley-on-Thames, Kidlington, Kettering, Newbury, Oswestry, Ormskirk, Oxford, Plymouth, Poole, Reading, Walburton, Witney and Weymouth. These shows typically use a similar structure, ethos and talent pool as the Welsh Wrestling shows.
Affiliation
Welsh Wrestling is Wales' representative in the UEWA (Union of European Wrestling Alliances), which recognises the Welsh Heavyweight Championship as the country's premier title. As part of their membership, the promotion has hosted one of the few European Heavyweight Championship title matches on UK soil and sent light heavyweight standout Wild Boar to represent them at the inaugural European Cruiserweight Championship tournament in Oslo, Norway.
See Also