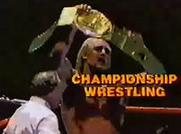 WWF Championship Wrestling
was a professional wrestling television program produced by the
World Wrestling Federation (WWF)
. It aired from 1972 to 1986 and was the original television show of the WWF. Originally produced under the World Wide Wrestling Federation (WWWF) banner, Championship Wrestling featured all the stars of the WWF, interviews and championship matches. It was the flagship program of the WWWF/WWF's syndicated programming until it was replaced by
WWF Superstars of Wrestling
of Wrestling in 1986.
This was the first WWF program to be shown on national broadcast television. Vince McMahon built the syndicated network in part by persuading local stations to pay for the rights to air the program. Stations like KPLR-TV in St. Louis and KHJ-TV (now KCAL) in Los Angeles reportedly paid $100,000 to air the show.
In its early years, the show was taped at the Philadelphia Arena and later at the Allentown Agricultural Hall in Allentown, PA. Typically, three weeks of television were taped in one night. The final taping in Allentown took place on June 19, 1984, with the episodes airing June 30, July 7, and July 14. The tapings then moved to the Mid-Hudson Civic Center in Poughkeepsie, New York until the final taping took place on August 5, 1986, with the final episode airing on August 30. The following week, WWF Superstars of Wrestling replaced WWF Championship Wrestling as the WWF's new flagship syndicated program. In contrast to Championship Wrestling, the tapings for Superstars of Wrestling moved around the country and took place at larger arenas.
Wrestlemania was broadcast in Australia in May 1985 on the Ten Network. Due to the large ratings, Ten made the decision to begin showing WWF Championship Wrestling on a weekly basis. The show was telecast on Monday nights, usually in the 10:30 or 11pm time slot.
See Also