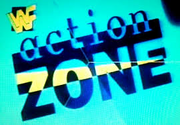 WWF Action Zone is a program that featured the World Wrestling Federation stars in action. The main event of the debut show saw Bret Hart defeat Owen Hart to retain the WWF Championship. The second week's main event had Shawn Michaels and Diesel defend the WWF Tag Team Championship against Razor Ramon and the 1-2-3 Kid.
Action Zone lasted from October 23, 1994 until September 15, 1996. Vince McMahon and Todd Pettengill called the first three episodes; after that, Jim Ross replaced McMahon, with Gorilla Monsoon filling in for Ross on occasion. By the end of 1995, Action Zone became a highlights show that aired Sunday mornings for both Monday Night Raw and Superstars. It was hosted by Todd Pettengill and Dok Hendrix. In 1996, Action Zone was canceled and replaced by WWF Superstars, which had just been removed from syndication.
See Also
Community content is available under
CC-BY-SA
unless otherwise noted.