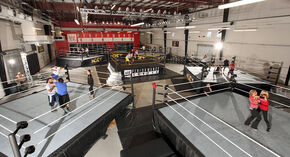 The WWE Performance Center is the official professional wrestling school of WWE, as well as a training, sports science, and sports medical facility. It is located in Orlando, Florida and was opened on July 12, 2013. It is not open to the general public.
The Performance Center is home to WWE's talent developmental system, WWE NXT. The facility covers 26,000 square feet and includes seven training rings, a world-class strength and conditioning program, cutting-edge edit and production facilities, and a voice-over room that performers and on-air announcers can use to practice. Leading up to the opening, the headquarters for WWE's former developmental territory, Florida Championship Wrestling (FCW), was shut down as WWE transferred NXT's headquarters to the Performance Center. Ring equipment and other materials held at the FCW Arena in Tampa were broken down on June 28, 2013, and items WWE decided to keep were transferred to the new facility. An ultra-slow camera and special ring for high-flying moves were moved to the Performance Center.
Attending the opening were Paul "Triple H" Levesque, WWE Executive Vice President, Talent and Live Events; Stephanie McMahon, Executive Vice President, Creative; Ken Goldstone, Chief Operating Officer of Full Sail University; John P. Saboor, WWE SVP of Special Events; and Rick Scott, Governor of Florida. Scott stated: "I love anybody that brings jobs to our state. They have all this talent here. Everyone, when they come here to work here, they want to stay here. Every job is important."
The Performance Center uses and has used former wrestlers as trainers, including Bill DeMott (head trainer until his resignation in March 2015), Matt Bloom (current head trainer), Billy Gunn, and Joey Mercury. WWE Hall of Famer Dusty Rhodes trains future wrestlers on how to best express themselves on the microphone and let their personalities shine through. The female wrestlers have their own female trainer, Sara Del Rey. After the aperture, WWE signed some new trainers, such as former WWE wrestler and Ohio Valley Wrestling trainer Nick Dinsmore (until October 2014) and British wrestler Robbie Brookside. The Performance Center includes some guest trainers, including Mickie James and Adam Pearce.
The Performance Center has been used for tryout sessions. Individuals including NFL player Shawne Merriman, tag team The American Wolves, and Kenta Kobayashi have tried out at the Performance Center.
See Also
Community content is available under
CC-BY-SA
unless otherwise noted.