We're Getting Mutants in the MCU - The Loop
Play Sound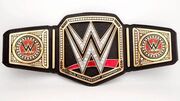 The WWE World Heavyweight Championship or WWE Championship is the World Heavyweight Championship created and promoted by the WWE. The championship was established by the then-World Wide Wrestling Federation (WWWF) on April 29, 1963 as the WWWF World Heavyweight Championship, following the promotion seceding from the National Wrestling Alliance.
It is the oldest championship currently recognized by the promotion, and is presented as being the most prestigious title in WWE, with many matches for the title having headlined pay per view (PPV) events - including WWE's signature PPV event WWE WrestleMania.
For the period between 2002–2013, the title was one of three world titles in WWE, along with the WWE World Heavyweight Championship and ECW Championship (2006−2010). But following the decommissioning of the ECW title, and unification with the WWE World Heavyweight title, it is once again promoted as WWE's primary championship.
Championship Lineage
(Dates are the TV Air Dates where applicable)
WWE Championship
Vacated: February 5, 1988 — WWF The Main Event Immediately after winning the title from Hogan, André sold the title to Ted DiBiase; President Jack Tunney nullified this decision, and vacated the title.
Vacated: December 7, 1991 - WWF Superstars of Wrestling Hogan was stripped of the title by Tunney due to the controversy surrounding both of the previous title changes.
Vacated: February 13, 1997 — Michaels forfeited the title due to a knee injury.
Vacated: September 27, 1998 - WWF In Your House 24, Vacated after Kane and The Undertaker simultaneously pinned Austin in a triple threat match.
Vacated: September 20, 1999: WWE Raw
Vacated: October 2, 2007 — WWE ECW
Vacated — June 9, 2009
Vacated — September 16, 2013 — WWE Raw
On December 15, 2013 at the TLC pay-per-view, Orton defeated John Cena to unify the World Heavyweight Championship into his WWE Championship.
Vacated — June 9, 2014 — WWE Raw
WWE World Heavyweight Championship