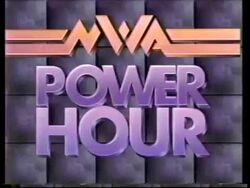 WCW Power Hour was the original Friday night wrestling show for World Championship Wrestling, airing on TBS.
Unlike most television (and wrestling) shows that started their program either at the top or bottom of the hour, WCW Power Hour aired 10 minutes before the bottom of the hour at 10:20 p.m. Later when it was moved to Saturday mornings, it adopted a more traditional television time slot.
The rights to WCW Power Hour now belong to WWE.
The final, and 300th episode of WCW Power Hour (previously NWA Power Hour) aired on March 5, 1994.
Return To