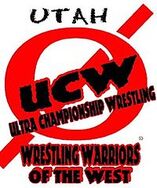 Ultra Championship Wrestling-Zero (UCW-Zero, formerly known as American Professional Wrestling) is an American Independent professional wrestling promotion based in Salt Lake City, Utah. Founded by promoter Steve Neilson in 2002, it is the only Utah-based wrestling promotion to promote events in the Rocky Mountains and Southwestern United States. One of its shows at the 2008 Festival Latinoamericano in Provo, Utah set an attendance record with over 1,000 people present at opening night.
It was affiliated with AWA Superstars from 2005 to 2007, and was also a member of the National Wrestling Alliance from May 2007-September 2012, co-promoting events with NWA Pro. A number of independent wrestlers spent their early careers in the promotion, most notably, 'Blitz' Mason, who was established as the first UCW-Zero Heavyweight Champion, Derrick Jannetty, Los Mochis' Paco, and Tristan Gallo who was the promotion's first UCW-Zero Ultra-X Champion; in 2011, Gallo was a participant in WWE Tough Enough. UCW-Zero has also featured former wrestlers from Extreme Championship Wrestling, Total Non Stop Action and World Wrestling Entertainment.
Championships
UCW-Zero Heavyweight Championship
UCW-Zero Tag Team Championship
UCW-Zero Ultra X Championship
UCW-Zero Women's Championship
UCW-Zero Cruiserweight Championship - Retired
UCW-Zero Mexico Championship - Retired
See Also
Community content is available under
CC-BY-SA
unless otherwise noted.