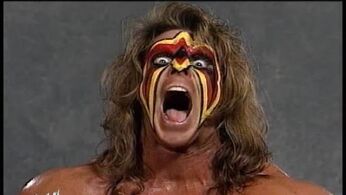 Warrior (born James Brian Hellwig; June 16, 1959 – April 8, 2014) was an American professional wrestler, who wrestled most famously under the ring name The Ultimate Warrior for the World Wrestling Federation from 1987 to 1991 and again in 1992 and 1996. During his 1998 stint in World Championship Wrestling (WCW), he was known as The Warrior.
While in the WWF, he became a two-time WWF Intercontinental Champion and won the WWF Championship when he pinned Hulk Hogan in the main event at WWE WrestleMania 6, making him the first wrestler to hold both titles concurrently. Warrior retired from professional wrestling in 1998 and embarked on a public speaking career, but wrestled one final match in Spain in 2008.
Warrior died on April 8, 2014, at the age of 54 in Scottsdale, Arizona. Over the preceding three days he had been inducted into the WWE Hall of Fame, appeared at WWE WrestleMania 30, and made his final public appearance on WWE Raw.
See Also