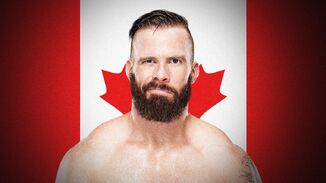 Tyson Moody (born June 19, 1978) is a Canadian professional wrestler, known by his ring name Tyson Dux (pronounced "Dukes"), and is currently wrestling for various independent promotions.
Between 2002 and 2004, Dux made several appearances with World Wrestling Entertainment on WWE Heat and WWE Velocity. He appeared in an angle on an episode of SmackDown in 2003 that saw him pose as a security guard who was attacked by The Undertaker, and in 2005, he wrestled in dark matches at Raw and SmackDown tapings. On 28 May 2007, Dux made an appearance for WWE in match for WWE Saturday Night's Main Event #34 in which he was defeated by Chuck Palumbo.
On 8 June 2014, Dux returned to WWE for an dark match prior to Friday Night's SmackDown in Ottawa, Canada, where he was defeated by Sin Cara. Dux was named as a participant in the Cruiserweight Classic in the spring of 2016 The tournament kicked off on 23 June with Dux being eliminated in his first round match by Zack Sabre Jr..
Absolute Intense Wrestling Tag Team Championship

All-Star Wrestling

Canadian Heavyweight Championship

Blood Sweat and Ears

Arctic Championship

Blood Sweat and Ears

Tag Team Championship
Border City Wrestling Can-Am Heavyweight Championship
Border City Wrestling Can-Am Tag Team Championship

Conflict Wrestling

Championship

Full Impact Wrestling

Heavyweight Championship

Future Stars of Pro Wrestling

Internet Championship

Hardcore Championship Wrestling

Heavyweight Championship
Maximum Pro Wrestling Triple Crown Championship

Motor City Wrestling

Heavyweight Championship

New Vision Pro Wrestling

Pride Championship

Pro Wrestling Xtreme

Bar Championship

Pro Wrestling Xtreme

X Division Championship

Squared Circle Wrestling

Triple Crown Championship
ICW Cruiserweight Championship

Wolverine Pro Wrestling

Heavyweight Championship
See Also