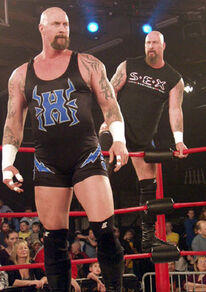 Donald "Don" Harris and Ronald "Ron" Harris (born October 23, 1960) are American twin brothers who achieved fame as professional wrestlers. Throughout their careers, the brothers teamed together under a variety of ring names. Ironically, for most their career, Ron was known as Don and Don was known as Ron, due to copyright issues emerging from their early career.
Both Harris Brothers have retired from wrestling and currently have a Nashville-based management company called O-Seven Artist Management. The brothers still reside in Nashville, Tennessee with their families
Don Harris effectively retired from the ring in 2003, and began working backstage with TNA as production manager. In the same year, Ron Harris retired from professional wrestling and began working for the Christian music label Beach Street Records. In 2007 Ron, Don and Frank Miller formed the Nashville-based management company O-Seven Artist Management.
Also, they work in Aroluxe, a marketing and production company. In 2016, TNA hired the services of Aroluxe. In April 2016, it was reported that Aroluxe was in negotiations with TNA over purchasing interest in the company.
See Also