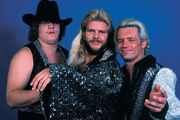 The Fabulous Freebirds were a professional wrestling tag team that attained fame in the 1980s, performing into the 1990s. The team usually consisted of three wrestlers, although in different situations and points in its history, just two performed under the Freebirds name. The Fabulous Freebirds started performing together in 1979 when promoter Bill Watts teamed up the trio of Michael Hayes, Terry Gordy, and Buddy Roberts. Originally meant to be a tag team, they became a "three man gang" type of tag-team—an unusual concept at the time. They usually worked as heels but also had several face runs as well. They were inducted into the WWE Hall of Fame in 2016.
During the Freebirds' career in the NWA, they won its tag team championship. While holding the title, promoters added a sub-gimmick to the team - "The Freebird Rule" - which allowed any two of the three members of the team to defend the title on any given night. In some cases, the Freebird rule has been applied to singles titles, most notably when Chyna and Chris Jericho co-held the WWE Intercontinental Championship in 2000.
Members and incarnations
Main Members
Michael Hayes was the leader of the group. Nicknamed "P.S." (Purely Sexy), he was known to get the crowd going with his antics.
Terry Gordy was the powerhouse of the group. Nicknamed "Bam Bam," he loved to fight and beat his opponents down.
Buddy Roberts, nicknamed "Jack" for his love of Jack Daniel's whiskey, was the speed of the group, who would often frustrate other wrestlers into chasing him, until Hayes and/or Gordy surprise them with a move. Buddy was also acknowledged as the best ring technician of the group.

Jimmy Garvin's association with the Freebirds began in 1983, as he had often teamed with Hayes, Gordy, and Roberts in WCCW and AWA. In 1988, he teamed with Steven Dane while Hayes was injured as a watered-down version of the Freebirds, and with Hayes during a reignited WCW run between June 1989 and July 1992. He was always considered the fourth Freebird by Hayes, Gordy and Roberts, although no one really believed it until 1989, when Hayes and Garvin (nicknamed "Jam") teamed up for the NWA World Tag Team Championship tournament.
See Also