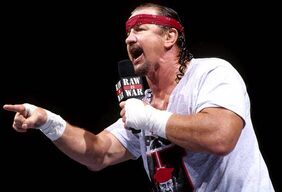 Terrence "Terry" Funk (born June 30, 1944) is a semi-retired American professional wrestler and former actor, known chiefly for the hardcore wrestling style he adopted in the latter part of his career that inspired many younger wrestlers, including Mick Foley. He worked for at least 63 promotions around the world over his 49-year career, including all major American and Japanese.
In major promotions, Funk is a three-time World Champion, having held the NWA World Heavyweight Championship once and ECW World Heavyweight Championship twice. He has been inducted into the WWE, WCW, Professional Wrestling, NWA, Hardcore, Wrestling Observer, and St. Louis Wrestling Halls of Fame.
Funk was a primary subject of the documentary film Beyond the Mat, and is often noted for the longevity of his career, which has included multiple "retirement" matches.
See Also