Jurassic World: Dominion Dominates Fandom Wikis - The Loop
Play Sound
TNA-GFW One Night Only is a series of professional wrestling events held by Total Nonstop Action / Impact Wrestling and briefly Global Force Wrestling. Each event is taped and released later periodically as a three-hour pay-per-view broadcast. The series began airing in April 2013, with new PPVs released on the first Friday of every month, except for the four months each year that each feature a live TNA pay-per-view event, with the exception of Hardcore Justice 3 which was aired on January 10, 2014. Every show is themed, e.g. around the X Division or tag team division. Promoted as individual "specials", the episodes—unlike the live pay-per-view events—are not connected to the storylines featured on TNA's weekly television programming nor to each other, though later One Night Only events still incorporated storylines into matches and situations. The concept was announced on January 11, 2013 by TNA President Dixie Carter as a part of a change to their pay-per-view programming. Prior to the change, TNA held live pay-per-view events monthly. Mike Tenay and Taz handle commentary duties, with Jeremy Borash filling in for Taz when he is unavailable.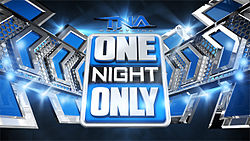 TNA One Night Only
2013
TNA One Night Only: X-Travaganza - April 5 2013 Honored and paid tribute to the X-Division as the past, present, and future X-Division stars collided. As part of his retirement tour, this was Jerry Lynn's final match in TNA.

TNA One Night Only: Joker's Wild - May 3 2013 Made up of tag team matches in which the partners were randomly drawn in a lottery and teams had to work together to advance to the main event battle royal, with the grand prize of US$100,000.

TNA One Night Only: Hardcore Justice 2 - July 5 2013 Consisted of matches with various hardcore wrestling stipulations.

TNA One Night Only: 10 Reunion - August 2 2013 Included stars from the early years of TNA returning. TNA's greatest feuds and rivalries from the past, were reignited for one night only.
TNA One Night Only: Knockouts Knockdown - September 6 2013 A series of matches featuring various Knockouts and independent wrestlers. The winners of these matches would advance to a gauntlet battle royal, with the winner being crowned the "Queen of the Knockouts".
TNA One Night Only: Tournament of Champions - November 1 2013 Included the top World Champions in TNA history battling to determine the greatest of all time.

TNA One Night Only: World Cup of Wrestling - December 6 2013 Took teams of wrestlers from around the World and had them compete in Heavyweight, X Division, Tag Team and Knockouts Division matches to crown the TNA World Cup Champions.
2014
TNA One Night Only: Tag Team Tournament - January 3 2014
TNA One Night Only - Hardcore Justice 3 - January 10 2014
TNA One Night Only: #OldSchool - February 7 2014

TNA One Night Only: Joker's Wild 2 - May 9 2014

TNA One Night Only: Global IMPACT Japan - July 4, 2014

TNA One Night Only: X-Travaganza 2 - August 1, 2014

TNA One Night Only: World Cup of Wrestling 2 - September 5, 2014

TNA One Night Only: Knockouts Knockdown 2 - November 7, 2014

TNA One Night Only: Victory Road - December 5, 2014
2015
TNA One Night Only: Turning Point - January 9 2015
TNA One Night Only: Rivals - February 6 2015
TNA One Night Only: Joker's Wild 3 - March 6, 2015
TNA One Night Only: Hardcore Justice 4 - April 1, 2015
Dark Match: The Von Erichs (

Marshall Von Erich

&

Ross Von Erich

) defeated ??? & Sonjay Dutt
The Wolves (Davey Richards & Eddie Edwards) defeated The Revolution (Manik & The Great Sanada) in a Tag Team Ladder Match
Drew Galloway defeated Kenny King in a Pipe On A Pole Match
Eric Young defeated Gunner in a Tables Match
Matt Hardy defeated Abyss in a Monster's Ball Match
James Storm won a Weapons Gauntlet Battle Royal with Chris Melendez, Crazzy Steve, Crimson, DJ Z, Jessie Godderz, Khoya, Knux, Mr. Anderson, Robbie E, Samuel Shaw, Tyrus
Ethan Carter III defeated Rockstar Spud in a First Blood Match
Bobby Roode defeated Lashley in a Last Man Standing Match
Bram defeated Tommy Dreamer in a Six Sides Of Steel Cage Match
TNA One Night Only: X-Travaganza 3 - May 6, 2015
TNA One Night Only: Knockouts Knockdown 3 - July 1, 2015
TNA One Night Only: World Cup of Wrestling 3 - August 5, 2015
TNA One Night Only: Gut Check - September 4 2015
TNA One Night Only: Classic - November 6 2015

TNA One Night Only: Global Impact: USA vs The World - December 4, 2015
2016
TNA One Night Only Live - January 8, 2016
TNA One Night Only: Rivals 2 - February 5, 2016
TNA One Night Only: Joker's Wild 4 - March 4 2016
TNA One Night Only: Knockouts Knockdown 2016 - April 6 2016

TNA One Night Only: Victory Road - May 20 2016
TNA One Night Only: World Cup - July 22 2016
TNA One Night Only: X-Travaganza - August 26 2016
TNA One Night Only: September 26 2016
TNA One Night Only: Against All Odds - November 4 2016
TNA One Night Only: December 2016
Impact Wrestling One Night Only
2017
Impact Wrestling One Night Only: Live - January 6 2017
Impact Wrestling One Night Only: Joker's Wild - February 10 2017
Impact Wrestling One Night Only: Rivals - March 17 2017
Impact Wrestling One Night Only: Knockouts Knockdown - April 14, 2017
Impact Wrestling One Night Only: Turning Point - May 11, 2017
Impact Wrestling One Night Only: No Surrender 2017 - June 16, 2017
Global Force Wrestling One Night Only
2017
GFW Amped Anthology Part 1 - August 11, 2017 (Taped July 24, 2015)
PJ Black defeated Seiya Sanada - GFW NEX*GEN Championship Tournament
Los Luchas (

Phoenix Star

&

Zokre

) and

Misterioso Jr.

defeated

Bestia 666

,

Blood Eagle

and

Shamu Jr.

- Six-man Lucha rules tag team match

KUSHIDA

defeated

Virgil Flynn

via submission
Bobby Roode defeated

Kevin Kross

via submission
The Bollywood Boyz (Gurv Sihra & Harv Sihra) defeated The Akbars (

Ali Akbar

&

Omar Akbar

) - GFW Tag Team Championship Tournament
Christina Von Eerie defeated

Lei'D Tapa

(w/

Royal Red Tapa

) and Mickie James - GFW Women's Championship Tournament

Jigsaw

defeated Sonjay Dutt - GFW NEX*GEN Championship Tournament
Nick Aldis defeated

Kongo Kong

(w/

Henry Maxwel

) - GFW Global Championship Tournament
GFW Amped Anthology Part 2 - September 15, 2017 (Taped July 25, 2015)
Reno Scum (

Adam Thornstowe

&

Luster the Legened

) defeated Los Luchas (

Phoenix Star

&

Zokre

) - GFW Tag Team Championship Tournament

Chris Mordetsky

defeated Brian Myers via submission - GFW Global Championship Tournament
Teaze 'n' Sleaze (

Juicy Joey

&

Kenny Klimx

) defeated

Cielo

and

Misterioso Jr.

- GFW Tag Team Championship Tournament
Shelton Benjamin defeated

JR Kratos

- GFW Global Championship Tournament
T.J. Perkins defeated Andrew Everett via submission - GFW NEX*GEN Championship Tournament
Bullet Club (Doc Gallows & Karl Anderson) (w/

Amber Gallows

) defeated Killer Elite Squad (Lance Archer & Davey Boy Smith Jr.) - GFW Tag Team Championship Tournament
PJ Black and The Akbars (

Ali Akbar

&

Omar Akbar

) defeated Sonjay Dutt and Los Luchas (

Phoenix Star

&

Zokre

)
Bobby Roode defeated Eric Young - GFW Global Championship Tournament
GFW Amped Anthology Part 3 - October 13, 2017 (Taped August 21, 2015)
Virgil Fylnn

defeated Trevor Lee - GFW NEX*GEN Championship Tournament

Amber Gallows

defeated

Katarina Leigh

and

Laura James

- GFW Women's Championship Tournament

Juicy Joey

(w/

Oozing Austin

) defeated

Kevin Kross

Nick Aldis defeated

Chris Mordetzky

- GFW Global Championship Tournament
Reno Scum (

Adam Thornstowe

&

Luster the Legened

) defeated Teaze 'n' Sleaze (

Juicy Joey

&

Oozing Austin

) - GFW Tag Team Championship Tournament

Kongo Kong

(w/

Henry Maxwell

) defeated Brian Myers and

Kevin Kross

- GFW Global Championship #1 Contenders match
GFW Amped Anthology Part 4 - (Taped August 22, 2015)
See Also