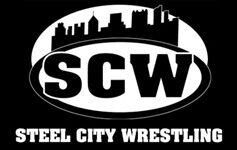 Steel City Wrestling (SCW) was a professional wrestling promotion that was founded in Latrobe, Pennsylvania in 1994 by Norm Connors. It was the top promotion in the Pittsburgh metropolitan area during the 1990s, along with the National Wrestling Alliance-affiliated Pro Wrestling eXpress, and was regarded by many in the industry as one of the best independent promotions on the East Coast of the United States.
For many years, SCW was the home promotion of Pittsburgh "legends" such as Lord Zoltan and T. Rantula as well as many prominent indy stars in the region including Cueball Carmichael, Dennis Gregory, Lou Marconi, Jimmy Cicero, Frank Stalletto, Tom Brandi, Mike Quackenbush, Reckless Youth, and The Bad Street Boys (Joey Matthews and Christian York). The promotion also regularly featured talent from Extreme Championship Wrestling. Future ECW stars Julio Dinero, Stevie Richards, and The Blue Meanie all started their careers in SCW. Unlike its Philadelphia counterpart, however, the promotion had a much more "family friendly" atmosphere. In addition, SCW co-hosted the original Deaf Wrestlefest benefit shows with Lord Zoltan for the Western Pennsylvania School for the Deaf from 1994 to 2000.
Return To
Community content is available under
CC-BY-SA
unless otherwise noted.