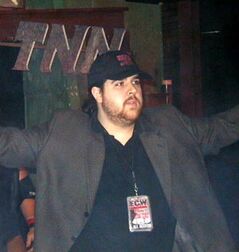 Lou D'Angeli (born August 19, 1972) is an American marketing professional and retired professional wrestling manager. He is the current Director of Marketing and Public Relations for Cirque du Soleil in Las Vegas. He is best known for his appearances with the Philadelphia, Pennsylvania-based professional wrestling promotion Extreme Championship Wrestling from 1995 to 2001 under the ring names Sign Guy Dudley and Lou E. Dangerously.
When ECW went bankrupt, Lou went to work for other pro wrestling companies such as Combat Zone Wrestling, PWF and MECW. At one point D'Angeli was working with Steve Corino on booking the PWF. D'Angeli last appeared in a ring as a manager in February 2003 with Alexis Laree (Mickie James) and Justin Credible. D'Angeli had a cameo at WWE ECW One Night Stand 2006 when Rob Van Dam defeated John Cena for the WWE Championship.
More recently D'Angeli appeared as part of Montel Vontavious Porter's entourage on WWE Saturday Night's Main Event from Madison Square Garden when Evander Holyfield, in place of MVP, had a boxing match with Matt Hardy.
See Also