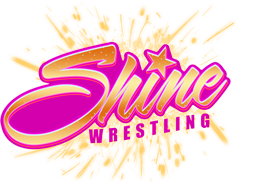 Shine Wrestling (stylized as SHINE Wrestling and often referred to simply as SHINE) is an American, Florida based independent women's professional wrestling promotion. It is the sister promotion to Shimmer Women Athletes and airs events on Internet pay-per-view (iPPV).
Shine was created as the sister promotion of Shimmer Women Athletes, and it was established by Dave Prazak in 2012. It held its first event Shine 1 on July 20, 2012. Lexie Fyfe, Daffney, and Sal Hamaoui are the bookers for the promotion.
The company holds its events at The Orpheum in Ybor City, Florida. It plans to record 12 DVDs worth of shows per year and air internet pay-per-views.
On September 18, 2013, Vito LoGrasso announced that his new Wrestling School signed an agreement to be the Development Center for Shine.
In 2015, WWNLive opened its own training facility in Trinity, Florida named "World Wrestling Network Academy", which Shine shares with Dragon Gate USA, Evolve and Full Impact Pro.
On October 24, 2016, WWNLive and FloSports announced a new streaming service, which would host events held by the WWNLive promotions, including Shine.
Titles
Shine Championship - The Shine Championship is the top championship in Shine Wrestling.
Shine Tag Team Championship - The Shine Tag Team Championship is the tag team championship contested in Shine Wrestling.
See Also