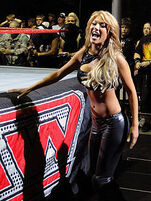 Milena Leticia Roucka (born October 25, 1979) is a Canadian professional wrestler, professional wrestling valet and former model formally signed with WWE as Rosa Mendes. She managed former WWE Tag Team Champions Primo & Epico from 2011 to 2013. She was also a main cast member of E! reality series WWE Total Divas.
In the summer of 2006, Roucka competed in the WWE Diva Search and reached the final eight. She won the first round, a dance competition. After she was eliminated on August 24, WWE then signed her to a developmental contract. On the November 24, 2008 episode of Raw, Roucka debuted on the main roster by appearing as a planted fan, holding a sign proclaiming her WWE Women's Champion Beth Phoenix's number one fan.
On February 13 2017 she announced her retirement from WWE.
See Also