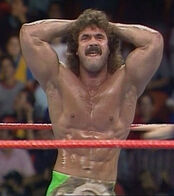 Richard "Rick" Erwin Rood (December 7, 1958 – April 20, 1999), better known by his ring name "Ravishing" Rick Rude, was an American professional wrestler who performed for many promotions, including World Championship Wrestling (WCW), the World Wrestling Federation (WWF) and Extreme Championship Wrestling (ECW).
Rude wrestled from 1982 until his 1994 retirement due to injury, with a final match following in 1997. Among other accolades, he was a four-time world champion (three-time WCW International World Heavyweight Champion and one-time WCWA World Heavyweight Champion), a one-time WWF Intercontinental Champion, and a one-time WCW United States Heavyweight Champion. Rude also challenged for the WWF Championship and the NWA World Heavyweight Championship on pay-per-view.
In 2012, Rude's physique was named by WWE.com as the greatest in company history; writer Kevin Powers described him as "the ring's most impressive physical specimen".[7] He was one of the four original members of D-Generation X in 1997, alongside Shawn Michaels, Triple H, and Chyna. On November 17, 1997, during the Monday Night Wars, Rude became the only person to appear on WWF Monday Night Raw and WCW Monday Nitro on the same night (as Raw was taped, while Nitro aired live).
National Wrestling Alliance Southern Heavyweight Championship (Florida version)

National Wrestling Alliance United States Tag Team Championship (Florida version)

National Wrestling Alliance World Tag Team Championship (Mid-Atlantic version)

National Wrestling Alliance American Heavyweight Championship

World Class Wrestling Association Television Championship

World Class Wrestling Association World Heavyweight Championship
See Also