Richard Morgan "Ric" Fliehr (born February 25, 1949) is a semi-retired professional wrestler most recently signed to the WWE. He is better known by his ring name Ric Flair. Also known as "The Nature Boy", Flair is considered to be one of the greatest professional wrestlers of all time with a professional career that spans over 40 years. He is noted for his lengthy and highly decorated tenures with the National Wrestling Alliance (NWA), World Championship Wrestling (WCW), the World Wrestling Federation (WWF, later WWE), and Total Nonstop Action Wrestling (TNA).
Flair is officially recognized by WWE, TNA and Pro Wrestling Illustrated as a 16-time world heavyweight champion (eight-time NWA Champion, six-time WCW Champion, and two-time WWF Champion). although the actual number of his world championship reigns varies by source; Flair considers himself as a 21-time World Champion.
In WCW, he also had two stints as a booker—in 1989–1990 and 1994. In 2012, Flair became the first ever two-time inductee in the WWE Hall of Fame, first inducted in 2008 for his individual career and for a second time in 2012 as a member of the Four Horsemen. He is also an NWA Hall of Famer (class of 2008). Flair's hairstyles and mannerisms were inspired by Buddy Rogers, who previously used the "Nature Boy" gimmick in the 1950s and 1960s.
Flair was the first WCW World Champion, having been awarded the title following WCW's secession from the NWA in 1991. With that, he also became the first WCW Triple Crown Champion upon being awarded the title, having already held the United States and World Tag Team titles. In 2005, he completed WWE's Triple Crown Championship when he won the Intercontinental Championship, after already holding the WWF (now WWE) Championship, as well as the World Tag Team Championship. Using the officially recognized totals (by WWE, TNA and PWI) of 16 World Championships and six U.S. Championship reigns, Flair has won a total of 30 different major championships between the NWA, WCW, and WWE, with numerous regional titles also to his credit. A major pay-per-view attraction throughout his career, he has headlined WWE's premier annual event, WWE WrestleMania, as well as the NWA/WCW equivalent, Starrcade, on ten occasions.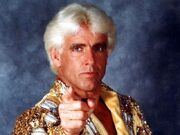 See Also
WCW Alumni -- WWE Alumni -- TNA Alumni -- World Title Records -- Charlotte Flair -- David Flair