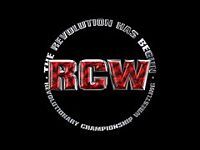 Revolutionary Championship Wrestling is a Midwestern independent professional wrestling promotion based in Portsmouth, Ohio.
RCW was formed in early 2002 by Dirk Cunningham who had left the Superstar Wrestling Federation (SWF) after creative differences with Owner Andy Runyon. Soon afterwards several other wrestling stars left the SWF as well due to creative differences.
In mid-2002 Cunningham acquired a ring, promoters license and formed a booking committee featuring himself, Jerry Davis, Jason Taylor, V.L. Stricklett, Ace Gigolo, Jay Vastine, Chris Smith and Exotic E.. The first show was booked for West Union, Ohio on November 29, 2002 and was titled "RCW: The Gathering". Notable appearances included surprise appearances by SWF stars "The King" Randy Allen, "The Notorious" Jay Vastine, "Livewire" Chris Smith and Total Nonstop Action Wrestling tag team champion "Wildcat" Chris Harris.
After 2 events, Cunningham disbanded the committee and set forth on running the promotion himself. By 2013, RCW is still going strong with Cunningham at the helm.
RCW has produced over 100 TV episodes. First, a half hour TV program on the Local WB/CW affiliate (WHCP) that saw 72 original episodes. RCW then produced a TV Show entitled RCW: Wrestling Shadows which broadcast over-the-air on TV station WTZP The Zone, channel 59 in Chillicothe, Ohio and channel 66 in Portsmouth, Ohio. Shadows still replays on the Zone periodically. RCW is currently at work on an all new show for the area that is due out sometime in 2013.
In January 2013, RCW was affiliated with the movie "Pro Wrestlers vs Zombies" starring Roddy Piper, Jim Duggan, Matt Hardy and others. The RCW Ring is visible in several scenes during the movie. RCW Talent Dirk Cunningham (Extreme), Tyson Rogers and Randy Allen also appear in the film as Zombies. RCW Cameraman Chris Jones was also used on the film behind the camera.
RCW has an extensive Film Crew that video and edit footage for several companies such as Remix Pro Wrestling, ASW Wrestling, IWA East Coast Wrestling, UVC MMA, Tammy Jo's Dance Studio and Stacey's Dance Studio. Dirk Cunningham with cousin Chris Jones primarily make up the staff.
Championships
RCW Championship
RCW North American Championship
RCW Tag Team Championship
See Also