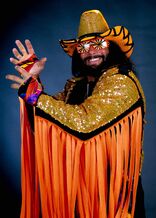 Randy Mario Poffo (November 15, 1952 – May 20, 2011), better known by his ring name "Macho Man" Randy Savage, was an American professional wrestler and color commentator best known for his time in the World Wrestling Federation (WWF) and World Championship Wrestling (WCW). He is considered to be one of the greatest pro wrestlers in history.
Savage won 20 championships during his 32-year career. He held six world championships between the WWF and WCW, having won the WWF Championship twice and the WCW World Heavyweight Championship four times. He also won the ICW World Heavyweight Championship three times and the USWA Unified World Heavyweight Championship once. A one-time WWF Intercontinental Champion, Savage was named by WWE (formerly WWF) as the greatest champion of all time and credited for bringing "a higher level of credibility to the title through his amazing in-ring performances." Savage was also the 1987 WWF King of the Ring and the 1995 WCW World War 3 winner. A major pay-per-view attraction in the 1980s and 1990s, he main-evented WresleMania's IV, V and VIII, as well as four of the first five WWE SummerSlam shows, WCW Starrcade 1995 , and many other events. At the peak of his popularity Savage held similar drawing power to that of Hulk Hogan.
For most of his tenures in the WWF and WCW, Savage was managed by his real-life wife "Miss Elizabeth" Hulette. He was recognizable by wrestling fans for his distinctively deep and raspy voice, his ring attire, intensity exhibited in and out of the ring, using "Pomp and Circumstance" as his entrance music, and his signature catch phrase, "Oooh yeah!" Savage died of cardiac arrhythmia while driving with his second wife Barbara Lynn Payne, in Seminole, Florida on the morning of May 20, 2011. On March 28, 2015, he was inducted into the WWE Hall of Fame.
Grand Prix Wrestling International Heavyweight Championship

National Wrestling Alliance Gulf Coast Tag Team Championship

International Championship Wrestling World Heavyweight Championship

World Wrestling Council North American Heavyweight Championship
See Also