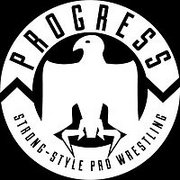 Progress Wrestling (stylized as PROGRESS) is a British professional wrestling promotion that was established in 2011 by comedian Jim Smallman and events and comedy promoter Jon Briley, later to be joined in management of the company by actor Glen Robinson (professionally known as Glen Joseph).
Championships
PROGRESS World Championship Unlike conventional wrestling championships which are generally represented by a championship belt, the PROGRESS championship was initially represented by a large staff with an eagle head piece. At Chapter Sixteen, the staff was replaced by a more traditional title belt. As of April 2, 2016, the title is now considered a world championship, having been defended in the United States at the Wrestlecon Supershow in Dallas, Texas. The title was subsequently defended in Italy on April 30, 2016 and Ireland on July 16, 2016.
PROGRESS Tag Team Championship It was announced at Chapter Nine that beginning in November 2013 there would begin a series of matches to determine the first PROGRESS Tag Team champions. The champions were crowned at Chapter Twelve, the second anniversary show, in March 2014. As with the PROGRESS Championship not being a conventional championship belt, the PROGRESS Tag Team Championship is represented by a shield with the PROGRESS eagle on the front. The shield splits into two, one for each championship holder.
PROGRESS Atlas Championship At Chapter Twenty Seven, it was announced that PROGRESS would be adding a third title, which would be called the Atlas Championship. The criteria for this championship is that it would be a division for wrestlers who weigh over 205 lbs, and the matches have a 15-minute time limit. Two blocks of four wrestlers will compete in a round robin format from April to September 2016, with the winner from each group facing off in a final match at Chapter 36 to decide the inaugural champion.
PROGRESS Women's Championship It was announced on April 24, 2016 that the 4th Natural Progression Series would crown the first PROGRESS Women's Champion.
See Also