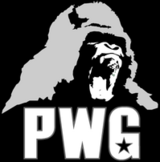 Pro Wrestling Guerrilla (PWG) is an American independent promotion that is run by wrestlers themselves as it was created by Southern California wrestlers Disco Machine, Excalibur, Joey Ryan, Scott Lost, Super Dragon, and Top Gun Talwar. Since then, Disco, Talwar and Lost have retired and left the company. Since 2007, Excalibur has been the head play-by-play commentator, with a rotation of wrestlers on color commentary.
The promotion debuted on July 26, 2003, and is known for its unique mixes of humor and professional wrestling as well as their over the top press releases and show titles, such as Kee_ The _ee Out of Our _ool!, Taste the Radness, Free Admission (Just Kidding), Straight to DVD, Steen Wolf, Black Cole Sun, From Parts Well Known, and Matt Rushmore.
In 2016, Dave Meltzer of the Wrestling Observer Newsletter called PWG "the best wrestling in North America"
Championships
PWG World Championship
PWG World Tag Team Championship
Return To