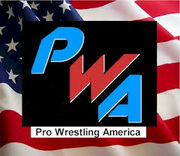 Pro Wrestling America is a regional independent wrestling promotion based in Minneapolis, Minnesota during the 1980s and early 1990s. Founded and promoted by retired wrestler Eddie Sharkey, a longtime veteran of the American Wrestling Association and owner of the Pro Wrestling America Training Center, Pro Wrestling America featured many established wrestlers while in between the then "Big Three" (American Wrestling Association, National Wrestling Alliance and the World Wrestling Federation) as well as providing many lightheavyweight and cruiserweight wrestlers with their first national exposure, most notably, Sabu, Jerry Lynn and The Lightning Kid.
Although the promotion stopped running regular events in 1993, it has held sporadic events in the Minneapolis-area with Sharkey's wrestling school since 1996. Among the former students who have appeared for several of these events include Lacey and Austin Aries, both being top stars in Ring of Honor.
Championships
PWA Heavyweight Championship
PWA Iron Horse Television Championship
PWA Light Heavyweight Championship
PWA Tag Team Championship
Return To
Community content is available under
CC-BY-SA
unless otherwise noted.