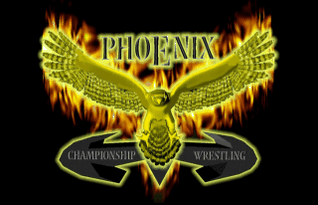 Phoenix Championship Wrestling was a short-lived American independent professional wrestling promotion based in Toms River, New Jersey. It was founded by twin brothers Don and Mike Bucci in 2001 and promoted by Don Bucci until its close two years later. The promotion enjoyed a high degree of success during its existence and was home to many independent wrestlers in the Jersey Shore and Mid-Atlantic region later signed to both Total Non-Stop Action and World Wrestling Entertainment.
Stars from both promotions made appearances for PCW such as TNA's Alexis Laree, Frankie Kazarian, Amazing Red and The S.A.T. (Jose Maximo and Joel Maximo). The Wall and The Harris Brothers were also signed to TNA while competing for the promotion. From the World Wrestling Federation included former and then current superstars such as Jimmy Snuka, Gillberg, Gangrel, Eddie Guerrero and Three Minute Warning (Rosey and Jamal). A number of WWE developmental wrestlers from Ohio Valley Wrestling spent time in the promotion including Kara Drew, Charlie Haas, Mike Kruel, Tank Toland and The Basham Brothers (Doug Basham and Danny Basham).
Mike Bucci, a mainstay of Extreme Championship Wrestling, was also able to bring in many of its stars prior to and following the promotion's close in 2001. Among these included Prodigy, Chris Chetti, Little Guido, Jerry Lynn, Crowbar, Steve Corino, Julio Dinero, Chris Hamrick, Tommy Dreamer, Raven, Joey Matthews & Christian York and the "heel" stable Triple Threat ("Franchise" Shane Douglas, Chris Candido and Bam Bam Bigelow). Both Bucci and Prodigy would win titles in the promotion, Prodigy being the first PCW Television Champion.
Despite the fierce competitive environment among independent Mid-Atlantic promotions, the smaller PCW had working relationships with several of its rivals allowing appearances by Nicky Benz and Ric Blade from Combat Zone Wrestling, and Michael Shane, "Fallen Angel" Christopher Daniels and Samoa Joe from Ring of Honor. PCW also featured many established independent wrestlers, not only in the Jersey Shore and Mid-Atlantic region, but from throughout the United States and Canada. The mix of wrestlers would occasionally result in unofficial interpromotional matches that would not normally be seen in mainstream companies. The promotion also had a weekly Public-access television cable TV series, Fire Bird TV, and many of its supercards and televised events were later released on VHS/DVD by Smart Mark Video and RF Video.
CHAMPIONSHIPS
PCW Heavyweight Championship
PCW Television Championship
PCW Tag Team Championship
See Also