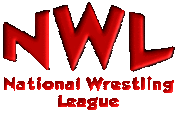 The National Wrestling League, headquartered out of Hagerstown, Maryland, was founded by Dick Caricofe in 1988, and has held professional wrestling events throughout the United States and overseas in Guam, Saipan, Pohnpei, Hawaiian Islands, Palau, and the Marshall Islands. WWE and TNA superstar Mick Foley won his very first professional wrestling championship when he captured the NWL heavyweight title on the island of Guam in 1991. The NWL's Superior Pro Wrestling Training Center (SPWTC) in Hagerstown, Maryland is also the home of the HOUSE of PAIN Wrestling Federation, founded by John Rambo in 1997. The HoPWF holds bi-weekly events in Pennsylvania and West Virginia, along with evening events at the SPWTC.
Championships
House of Pain Wrestling Federation
HoPWF Heavyweight Championship
HoPWF Television Championship
HoPWF Cruiserweight Championship
HoPWF Womens' Championship
HoPWF Tag Team Championship
HoPWF Six-Man Tag Team Championship
National Wrestling League
NWL Heavyweight Championship
NWL Cruiserweight Championship
NWL Tag Team Championship
NWL Women's Championship
NWL Midget Championship
National Wrestling League/House of Pain Wrestling Federation
NWL/HoPWF Hardcore Championship
NWL/HoPWF Luchadore Championship
Return To
Community content is available under
CC-BY-SA
unless otherwise noted.