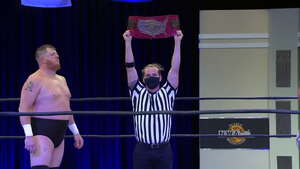 The NWA National Championship is a championship owned and promoted by the U.S.-based, National Wrestling Alliance (NWA). The championship was established in January 1980 as the top singles title of Georgia Championship Wrestling (GCW), a prominent NWA-affiliated promotion. Until its September 1986 deactivation, the title remained Georgia-based -- across 3 different owners (GCW; Championship Wrestling from Georgia, and Jim Crockett Promotions).
The title was reactivated in May 1997 and promoted by a handful of NWA-affiliated independent promotions, until its was vacated in October 2017.
In October 2018, the title was renamed the "NWA National Championship", reactivated, and the NWA (now a promotion, instead of a sanctioning body) held an 8-person tournament to crown a new titleholder.
See Also