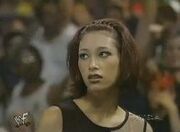 Shian-Li Tsang (born October 19, 1981) is a professional Japanese model and former valet for the World Wrestling Federation best known for her stint as Mrs. Yamaguchi-San in 1998.
Shian-Li Tsang made her WWF debut on the June 29, 1998 edition of Raw. She participated in an storyline which involved a feud between the Japanese stable Kaientai (Taka Michinoku, Funaki, Dick Togo, Men's Teioh, and their manager Yamaguchi-San) and Val Venis. She worked under the gimmick of Mrs. Yamaguchi, the on-screen wife of Yamaguchi-San and the mistress of Venis. Yamaguchi-San discovered the affair when he was shown a video of his wife and Venis in bed together. He decided to punish Mrs. Yamaguchi by giving her a spanking with a wooden paddle. Venis intervened and the punishment never took place. At the time, the group had been feuding with Taka, their former stablemate in Japan, as well, until Taka betrayed Venis in a tag team match and revealed that Mrs. Yamaguchi was his sister, finally joining Kaientai in the WWF. They proceeded to drag him backstage and attempt to slice his penis off with a sword. On the August 10, 1998 edition of Raw, Venis ended the affair with Mrs. Yamaguchi, shortly after which the character was dropped and Tsang moved on to continued her acting and modeling career for a while and even scored a role in the 2002 movie Mary and Joe. Tsang however had bigger plans for her life and career. She returned to school and received a PhD in Communications media and Instructional Technology, a BS in Marketing and an AAS in Fashion Merchandising Management. Tsang then began a career in fashion and marketing with companies such as Coach and Dick's sporting goods. She has written several articles, was an instructor at a University and currently works as the director of brand marketing for Dick's Sporting Goods. She is also married and resides in the Pittsburgh, Pennsylvania area.
See Also
Community content is available under
CC-BY-SA
unless otherwise noted.