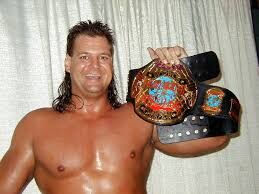 Michael Lee "Mike" Alfonso (January 24, 1965 – February 17, 2007) was an American professional wrestler. He was best known for his appearances with the American professional wrestling promotions Extreme Championship Wrestling, World Championship Wrestling and the World Wrestling Federation under the ring name Mike Awesome and for his appearances in Japan for with Frontier Martial-Arts Wrestling and All Japan Pro Wrestling as The Gladiator.
ECW Title Controversy On April 10, 2000, Awesome made a surprise appearance on WCW Monday Nitro—aiding The New Blood by attacking Kevin Nash—while still reigning as ECW World Champion. Awesome's friend Lance Storm has said that he had refused to sign a new contract with ECW until Paul Heyman paid him overdue wages.
Due to concerns over legal issues WCW refrained from having Awesome appear on their television shows with the ECW belt. Eventually, a compromise was reached. Awesome (a WCW employee and ECW champion) appeared a few days later at an ECW event in Indianapolis, Indiana, accompanied by WCW's head of security, where he lost the title to Tazz (a World Wrestling Federation employee), who lost it a week later to Tommy Dreamer (a full-time ECW wrestler) (who incidentally lost it approximately 20 minutes later to Justin Credible). In the extreme shoot interview released by Highspots in 2005, Awesome expressed that he would have rather faced off with his former ECW and WWE colleague, Rhyno and suggested that they could have put on a more entertaining match regardless of the circumstances and the manner in which he had left ECW.
On February 17, 2007, at around 10:30 p.m, a group of Awesome's friends found him hanging inside his Tampa home. He was 42 years old. WWE recognized Awesome's death on-air by displaying an "In Memory..." graphic at the beginning of the February 20, 2007 edition of ECW on Sci Fi, and an article about his death was posted on WWE.com, saying that Awesome was found dead but omitting the cause of death. His family received friends on February 22, 2007 at Serenity Meadows Funeral Home in Riverview, Florida.
See Also