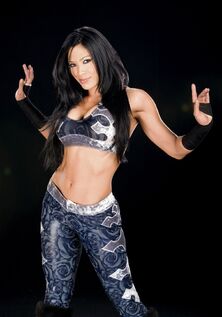 Melina Perez (born March 9, 1979) is an American model, professional wrestler, valet, and actress. She is best known for her time with World Wrestling Entertainment under the ring name Melina.
Perez started her career as a beauty pageant contestant, winning Miss Hawiaiian Tropics Anaheim. In Perez's modelling career, she has won many modelling competitions such as the Group USA Bridal Show, Group USA Fashion Show, and Ms. California Belleza Latina.
In 2000, Perez began her professional wrestling career signing with the independent circuit, where she began her training at Jesse Hernandez's School of Hard Knocks in San Bernardino, California, and made her official wrestling debut in 2002. In late 2002, Perez auditioned for World Wrestling Entertainment's reality show WWE Tough Enough III, but was eliminated in first round, and was afterwards inspired by Al Snow to continue pursuing her wrestling career. In March 2004, Perez signed a developmental contract with World Wrestling Entertainment, and was assigned to Ohio Valley Wrestling (OVW), WWE's developmental territory, where she began managing Johnny Nitro and Joey Mercury, later naming the tag team MNM to three reigns as WWE Tag Team Champions, as well as Johnny Nitro to two reigns as WWE Intercontinental Champion. Perez was in WWE until 2011, when she was released from her contract. She is a three-time WWE Women's Champion, and a two-time WWE Divas Champion. After winning her second WWE Divas Championship, Perez became the first woman in WWE history to become a multiple-time champion with both the Women's, and Divas titles.[20] Famed for her flexibility, utilized during her entrance and in her in-ring maneuvers, Perez was called "one of the best wrestlers in the world" by Bret Hart and cited by WWE as having "perhaps the most impressive arsenal of offensive maneuvers in Diva history."
Videos
Select Championship History
See Also