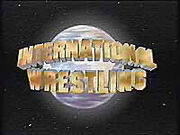 Lutte Internationale (French pronunciation: ​[ly.tu.ɛ̃.tɛʁ.na.sjɔ.nal], "International Wrestling") was a professional wrestling promotion based in Montreal, Quebec from 1980 until 1987. The promotion was founded by Frank Valois, André the Giant and Gino Brito as Promotions Varoussac (VAlois, ROUSSimoff, and ACcocella Promotions). Lutte Internationale succeeded All-Star Wrestling and Grand Prix Wrestling as Quebec's top wrestling promotion for most of the 1980s.
It was the second of Canada's three major wrestling promotions, along with Maple Leaf Wrestling and Stampede Wrestling, to be put out of business by the World Wrestling Federation. Many French Canadian professional wrestlers of the 1980s wrestling boom came to the U.S. from Lutte Internationale including, most notably, Dino Bravo, Rick Martel and The Rougeaus. The promotion's close in 1987 marked the end of the fifty-year "Golden Age of Wrestling" in Quebec.
Championships
Canadian International Heavyweight Championship - Defended from 1976 until 1987.
Canadian International Tag Team Championship - Defended from 1976 through 1987.
Canadian International Television Championship - Established in 1983 and continued to be defended until 1987.
Return To