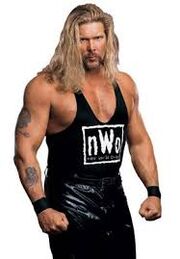 Kevin Scott Nash (born July 9, 1959) is an American professional wrestler, former basketball player and actor, currently signed to WWE under their legends program. Nash has wrestled under several ring names, but is best known by his real name in World Championship Wrestling (WCW) and Total Nonstop Action Wrestling (TNA), and in the World Wrestling Federation (WWF)/WWE, where he has also been billed as Diesel.
In 1994, Nash (as Diesel) won all three titles comprising the WWE Triple Crown Championship, and at that year's Slammy Awards won the MVP (now Superstar of the Year), and—with Shawn Michaels—Best Tag Team (now Tag Team of the Year) awards.
Between WWE, WCW, and TNA, Nash has won a total of 21 championships, including being a six-time world champion (a five-time WCW World Heavyweight Champion and one-time WWF Champion), and a 12-time tag team champion between the three promotions. Although he held the WWF Championship only once, Nash is the longest-reigning titleholder of the 1990s, with a 358-day run. During his time in WCW, Nash also became the first wrestler to defeat Goldberg and in the process ended his undefeated streak of 173–0 at Starrcade 1998.
Nash was a member of The Kliq, a group that included Shawn Michaels, Triple H, Scott Hall, and Sean Waltman. He is one of the three founding members of the New World Order (nWo), along with Hulk Hogan and Scott Hall; Nash was described in Fighting Spirit Magazine as "arguably the nWo's most important member". He was inducted into the 2015 WWE Hall of Fame.
Covey Promotions

World Heavyweight Championship
See Also