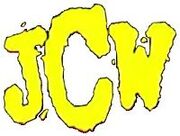 Juggalo Championship Wrestling (formerly Juggalo Championshit Wrestling) is an American independent professional wrestling promotion founded in 1999 by Violent J and Shaggy 2 Dope, better known as the hip-hop duo Insane Clown Posse. JCW currently runs shows throughout the country. The video games Backyard Wrestling: Don't Try This at Home and Backyard Wrestling 2: There Goes the Neighborhood feature numerous independent wrestlers from the promotion.
The style of JCW is largely based upon hardcore wrestling. Bruce and Utsler refer to Extreme Championship Wrestling as the major influence on the company's style as well as their unique camera angles, which they compare to that of the movie Natural Born Killers; "fading in and out, and turning all over." In early years of the company, talent mostly consisted of rappers and well-known names performing under parody alternate-names. The company instituted a change in the roster after changing their name, focusing more on independent and hardcore wrestlers, as well as several established names.
JCW records the majority of its shows and releases them in episodes of SlamTV! and on DVDs, which are sold on its online store. It launched the JCW Wrestling School with Kevin Canady as head trainer in 2010. That December, the promotion began running bi-weekly events at The Modern Exchange in Southgate, Michigan and established a video distributing partnership with HighSpots.com. In March 2011, it launched a broadcasting website and began showing its bi-weekly events live on internet pay-per-view (iPPV).
JCW Heavyweight Championship
JCW Tag Team Championship
See Also