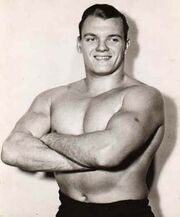 Johnny Valentine (born John Theodore Wisniski, September 22, 1928 – April 24, 2001) was an American professional wrestler with a career spanning almost three decades. He has been inducted into four halls of fame for his achievements in wrestling. Wisniski was the father of professional wrestler Greg Valentine.
He held numerous world champion and regional titles, including the NWA United States Championship. He had long running rivalries with Bobo Brazil, Pat O'Connor, Buddy Rogers, Antonio Rocca, Lou Thesz, Harley Race, The Sheik, Wahoo McDaniel, Fritz von Erich, Bruno Sammartino, Johnny Powers, Antonio Inoki and Jack Brisco & Jerry Brisco. He alternated between being a villain and a hero (babyface) during the Golden Era in the 1940s through 1960s of wrestling.
In 1975, he was injured in a plane crash; he suffered a broken back and was forced to retire from wrestling. He worked briefly as a manager before retiring altogether. He suffered from several health problems during his career, which worsened considerably after a fall in 2000. He died the following year.
NWA International Tag Team Championship (Japan version)
NWA United National Championship
NWA United States Tag Team Championship (Northeast version)
NWA Brass Knuckles Championship (Florida version)
NWA Florida Heavyweight Championship
NWA Southern Heavyweight Championship (Florida version)
NWA Southern Tag Team Championship (Florida version)

L&G Promotions

Caribbean Heavyweight Championship

International Wrestling Association (Chicago)

International Heavyweight Championship

International Wrestling Association (Montreal)

International Heavyweight Championship
NWA International Tag Team Championship (Toronto version)
NWA United States Heavyweight Championship (Toronto version)
NWA Mid-Atlantic Heavyweight Championship
NWA United States Heavyweight Championship (Mid-Atlantic version)
NWA Georgia Heavyweight Championship
NWA United States Heavyweight Championship (Detroit version)
NWA United States Television Championship
NWA "Beat the Champ" Television Championship
NWA Hawaii Tag Team Championship
NWA World Tag Team Championship (Minneapolis version)
NWA North American Heavyweight Championship (Amarillo version)
National Wrestling Federation Heavyweight Championship
National Wrestling Federation North American Heavyweight Championship
NWA Brass Knuckles Championship (Texas version)
NWA American Heavyweight Championship
NWA American Tag Team Championship
NWA Texas Heavyweight Championship
NWA Texas Tag Team Championship
NWA United States Heavyweight Championship (Texas version)
NWA Missouri Heavyweight Championship
NWA Canadian Heavyweight Championship (Calgary version)
See Also