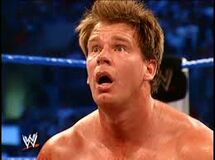 John Charles Layfield (born November 29, 1966) is an American retired professional wrestler and current color commentator in WWE under the ring name John "Bradshaw" Layfield (abbreviated JBL).
Outside of his WWE work, Layfield is a financial analyst for Fox News. Within WWE, he was previously known by the ring name Bradshaw, and prior to that, the variations Justin "Hawk" Bradshaw and Blackjack Bradshaw (as half of The New Blackjacks with Blackjack Windham). As JBL, Layfield was WWE Champion for 280 days.
Layfield's main gimmick as JBL — a wealthy, big-mouthed, fiery-tempered businessman — was based on Layfield's real-life accomplishments as a stock market investor. Layfield is a guest panelist on Fox News Channel's The Cost of Freedom, has appeared on CNBC, and has written a best-selling book on financial planning called Have More Money Now. Layfield also hosts a weekend talk radio program, syndicated nationally by Talk Radio Network, in which he discusses his conservative political views. Layfield is also employed by Northeast Securities as its Senior Vice President.
In WWE, Layfield won 24 total championships including one reign as WWE Champion, one reign as United States Champion, one reign as European Champion, 17 reigns as Hardcore Champion, one reign as Intercontinental Champion, and three reigns as World Tag Team Champion with Faarooq as part of the Acolytes Protection Agency (APA).[9] He is also recognized as the twentieth Triple Crown Champion, and the tenth Grand Slam Champion. Since December 7, 2012, Layfield and fellow WWE commentator Michael Cole have hosted the WWE YouTube web series, The JBL and Cole Show.
Catch Wrestling Association World Tag Team Championship

Global Wrestling Federation Tag Team Championship

Memphis Championship Wrestling Southern Tag Team Championship

NWA North American Heavyweight Championship

Ohio Valley Wrestling Southern Tag Team Championship

United States Wrestling Federation Tag Team Championship
See Also