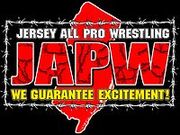 Jersey All Pro Wrestling is an independent wrestling promotion that was founded by "Fat" Frank Iadeavia and Angel Surita on April 19, 1997. This promotion was born out of a dream of "Fat" Frank and Angel. They wanted to take the promotion in a different direction than others. "Fat" Frank and Angel took a group of misfit wrestlers who were not used in other promotion for various reasons and booked them in a show on that night under the promotion name.
Currently, Jersey All Pro Wrestling generally holds their events once a month in small venues such as the Rahway Rec Center, and the Golden Door Charter School in Jersey City. On May 22, 2010, Japanese legend Jushin Thunder Liger made his debut for JAPW, wrestling Homicide in the main event of the show in which he lost. In the fall of 2010 JAPW started a working relationship with New Japan Pro Wrestling (NJPW), which saw Jushin Thunder Liger capturing the JAPW Light Heavyweight Championship in December 2010. In May 2011 JAPW hosted NJPW in the United States during their Invasion Tour 2011: Attack on East Coast. The NJPW tour caused heavy financial losses for JAPW, leading to the promotion going on a hiatus from 2010 until April 14, 2012, when they held their 14th Anniversary Show in Rahway. Afterwards, JAPW promoted only one anniversary show per year. On September 23, 2015, JAPW founder and promoter Frank Iadevaia died in his sleep.
Championships
JAPW Heavyweight Championship
JAPW Tag Team Championship
JAPW Light Heavyweight Championship
JAPW Women's Championship
Retired and inactive championships
JAPW New Jersey State Championship
JAPW Fan's Championship
JAPW Student Championship
JAPW Suicidal Championship
JAPW Television Championship
JAPW Students Tag Team Championship
See Also
Community content is available under
CC-BY-SA
unless otherwise noted.