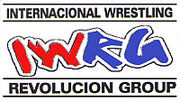 International Wrestling Revolution Group (Grupo Internacional Revolución in Spanish) is a Lucha Libre promotion based in Naucalpan, State of Mexico, Mexico. Founded in 1996 by Adolfo Moreno and since Moreno's death in late 2007 has been controlled by his sons Alfredo and Marco Moreno. IWRG has its own championships but like a lot of Mexican promotions recognize champions from other promotions, occasionally allowing them to defend those titles on IWRG shows. In recent times the company has tried to become a competitor to both Consejo Mundial de Lucha Libre (CMLL) and Asistencia Asesoria y Administracion (AAA), acquiring a national television deal with TV Azteca and using a number of talent that have left CMLL or AAA to bolster their ranks and profile. IWRG's home base is Arena Naucalpan where the majority of their shows are held, though they have regularly promoted shows at other venues such as Arena Emiliano Zapata, Arena Xochimilco and Arena Neza.
IWRG Intercontinental Heavyweight Championship
IWRG Intercontinental Lightweight Championship
IWRG Intercontinental Middleweight Championship
IWRG Intercontinental Tag Team Championship
IWRG Intercontinental Trios Championship
IWRG Intercontinental Welterweight Championship
IWRG Junior de Juniors Championship
IWRG Rey del Ring Championship
Return To
Community content is available under
CC-BY-SA
unless otherwise noted.