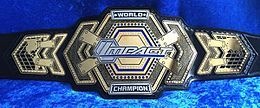 The Impact Grand Championship is a professional wrestling championship owned by the Total Nonstop Action Wrestling (TNA) professional wrestling promotion. The title was introduced at the August 13, 2016, tapings of TNA's television program Impact Wrestling after TNA President Billy Corgan announced that the TNA King of the Mountain Championship would be deactivated and retired in favor for the new championship. Corgan also announced a 8-man single elimination tournament that would feature new rules that would apply to the title. The new rules would be similar to how bouts were contested in professional wrestling in Europe in which each match will consist of three timed rounds, with a team of judges to determine the outcome based on points, if there is no winner via pin or submission within the time limit. The final match of the tournament took place at TNA Bound for Glory 2016.
Rules
Three 3 minute rounds, with championship matches going 5 minutes
10 point must system
3 judges
Judging categories: Physicality, aggressiveness, controlling the action
Wins can happen anytime via pin or submission
If there is no winner after three rounds, a winner is decided by judge's decision
On the January 25, 2018 Genesis episode of Impact!, Matt Sydal defeated champion Ethan Carter III in a "No Rounds, No Judges" match. Subsequent title defenses would also be contested under normal match rules, no longer using rounds, points system or judges.
Championship Lineage
TNA Grand Championship
Impact Wrestling Grand Championship
See Also