---
Revision as of 02:05, 23 May 2015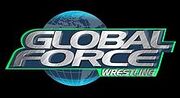 Global Force Wrestling (GFW) is an American professional wrestling promotion founded in 2014 by Jeff Jarrett. Jarrett, the founder and former President of Total Nonstop Action Wrestling (TNA), announced his intentions to create a new wrestling promotion shortly after officially leaving TNA in January 2014.
Foundation
Though Jeff Jarrett is still a minority investor in TNA Wrestling, he debuted the branding of Global Force Wrestling, in April 2014. Since that time, he has been promoting the brand and establishing international partnerships with wrestling promotions across the world. The organization has a strategic partnership with 25/7 Productions and David Broome (creator of NBC's The Biggest Loser). Broome has stated that the organization plans to create new on-air content 52 weeks per year.
As of August 2014, GFW has announced working agreements with Mexican promotion Asistencia Asesoría y Administración (AAA), Japan's New Japan Pro Wrestling (NJPW) promotion, multiple European promotions, South African promotion World Wrestling Professionals (WWP), and promotions from Australia and New Zealand. As part of GFW's relationship with New Japan Pro Wrestling, GFW "presented" NJPW's Wrestle Kingdom 9 in Tokyo Dome on the American pay-per-view market on January 4, 2015, which featured commentary from Jim Ross and Matt Striker.
The home of television tapings in the future for the company will be at Orleans Arena in Las Vegas. The first three events are scheduled to take place on July 24, 2015, August 21, 2015 and October 23, 2015.
On May 6, 2015, Jarrett announced talent for their upcoming TV tapings, which include Bullet Club members Karl Anderson and Doc Gallows, the Killer Elite Squad, and Chael Sonnen as an expert analyst. On May 11, 2015, GFW announced the rest of their roster. The next day, GFW announced that four champions will be crowned at the July 24 tapings in Las Vegas.
Global Force Wrestling World Heavyweight Championship
Global Force Wrestling Cruiserweight Championship
Global Force Wrestling Women's Championship
Return To