Line 42:
Line 42:
 
 
 

==Impact Zone==

 

==Impact Zone==

 
+

[[File:Impact_Zone.png|thumb|centre|400px]]

 
+

'''The Impact Zone''', also known as the '''Impact Wrestling Zone''' is the professional wrestling nickname for a sound stage in Universal Studios Florida in Orlando, Florida. Its nickname was derived from [[Total Nonstop Action Wrestling]]'s (TNA) [[Impact Wrestling]] weekly television series, which broadcast live from this venue. Between 2004 March 7, 2013 TNA taped their broadcasts from Soundstage 21. However, [[Total Nonstop Action Wrestling]] officially terminated its lease with Universal Studios at the end of March 2013 and began to tour nationally. [[TNA]] returned to Universal Studios on November 21, 2013, but rather than going back to Soundstage 21, it went to Soundstage 19, which is smaller and holds fewer people than Soundstage 21. TNA announced that starting with their March 13, 2014 Live broadcast, Impact Wrestling will be filmed on sound stage 20, directly behind sound stage 21, the original TNA Impact Zone. Sound stage 19 was a temporary venue for Impact Wrestling tapings.

 
 
 

==Madison Square Garden==

 

==Madison Square Garden==
---
Revision as of 22:20, 23 June 2015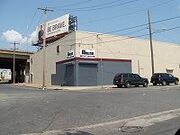 2300 Arena, formerly known as Viking Hall, XPW Arena, Alhambra Arena, The Arena, Asylum Arena and best known as the ECW Arena, is a multipurpose indoor arena used primarily for professional wrestling, boxing, mixed martial arts, and concert events. Located in South Philadelphia under an elevated stretch of Interstate 95, it is named after its address at 2300 South Swanson Street. Prior to its status as an entertainment venue, the building served as a freight warehouse.
Companies
American Luchacore
Break The Barrier
Dangerous Women of Wrestling
Evolve Wrestling
Heritage Wrestling Alliance
Independent Championship Wrestling
International Wrestling Syndicate
Legends of the Arena
Masked Republic
Pro Wrestling Unplugged
Pro Wrestling WORLD-1
Pro Wrestling Xplosion
Pro-Pain Pro Wrestling
Soul City Wrestling
UWF Live
Velocity Pro Wrestling
westside Xtreme wrestling
Wicked Hanuman
Wrestling with Disaster
Impact Zone
The Impact Zone, also known as the Impact Wrestling Zone is the professional wrestling nickname for a sound stage in Universal Studios Florida in Orlando, Florida. Its nickname was derived from Total Nonstop Action Wrestling's (TNA) Impact Wrestling weekly television series, which broadcast live from this venue. Between 2004 March 7, 2013 TNA taped their broadcasts from Soundstage 21. However, Total Nonstop Action Wrestling officially terminated its lease with Universal Studios at the end of March 2013 and began to tour nationally. TNA returned to Universal Studios on November 21, 2013, but rather than going back to Soundstage 21, it went to Soundstage 19, which is smaller and holds fewer people than Soundstage 21. TNA announced that starting with their March 13, 2014 Live broadcast, Impact Wrestling will be filmed on sound stage 20, directly behind sound stage 21, the original TNA Impact Zone. Sound stage 19 was a temporary venue for Impact Wrestling tapings.
Madison Square Garden
Staples Centre
=See Also