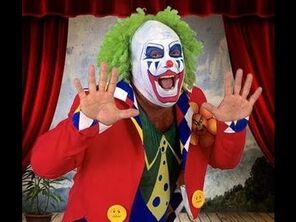 Doink the Clown is the name and persona originated by professional wrestler Matt Osborne in the World Wrestling Federation (WWF) and used there from 1992 to 1996, and sporadically thereafter. After Osborne left the WWF in late 1993, the character was played by several wrestlers, both in the WWF (later WWE) and elsewhere. Osborne continued to sporadically perform as Doink until six months before his death in June 2013.
Wrestlers who used the Doink gimmick
Seven men have officially used the Doink gimmick. Six wrestlers (including two tag-teams) have used the costume for storyline purposes, at various times.
Matt Osborne

– the original Doink, left WWF in December 1993, died June 28, 2013.

Steve Keirn

– wrestled as the "illusion" Doink at WWE WrestleMania 9 and occasionally the "real" Doink at house shows.

Steve Lombardi

– occasionally wrestled as Doink at house shows and dresses as Doink for various WWE appearances.

Dusty Wolfe

– wrestled as Doink in the NWA and other indie promotions.

John Maloof

– wrestled as Doink full-time after Osborne left the WWF.

Ray Apollo

– also wrestled as Doink in WWF after Osborne left.

Mike Maraldo

- wrestled Scotty Flamingo as Doink on a Smoky Mountain Wrestling card in November 1994.
Nick Dinsmore – wrestled as Doink on the July 31, 2003 episode of SmackDown!, losing to Chris Benoit.
Wrestlers who used Doink's costume for storyline purposes
See Also