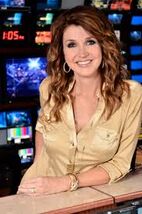 Dixie Carter-Salinas (born October 6, 1964), known professionally as Dixie Carter, is an American professional wrestling promoter and businesswoman, who was the president of Total Nonstop Action Wrestling (TNA).
In 2002, the president of Monterey Peninsula Talent (a booking agency) contacted Carter and informed her that Total Nonstop Action Wrestling, a professional wrestling promotion, required a marketing and publicity outlet. Carter began working with TNA, but, two months later, was informed by Jeff Jarrett (a part-owner of TNA) that a key financial backer (HealthSouth Corporation, which was having financial problems due to its being investigated for accounting irregularities) had withdrawn support from TNA, and that the company was in dire straits as a result.
Carter, claiming to "[See] the potential in a marketplace that had one company WWE with a US$900 million market cap and no competitor", contacted her parents, the owners of Panda Energy International, a Dallas-based energy company. In October 2002, Panda Energy purchased 71% of TNA from the HealthSouth Corporation for $250,000. On October 31, 2002, TNA (which originally traded as "J Sports and Entertainment") was renamed "TNA Entertainment". Carter was appointed president of TNA Entertainment in spring 2003.
See Also