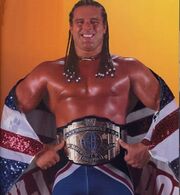 David "Davey" Boy Smith[2] (November 27, 1962 – May 18, 2002) was a British professional wrestler. Born in Golborne, Wigan, Smith is best known for his appearances in the United States with the World Wrestling Federation under his own name and under the ring name The British Bulldog.
Smith's middle name, Boy, was the result of one of his parents mistaking the name field on Smith's birth certificate for the gender field. He was trained by Ted Betley in Winwick, England before relocating to Calgary, Alberta, Canada to further his training under Stu Hart. While training with Hart, Smith met Stu and Helen Hart's youngest daughter Diana, whom he married in 1984. One of their two children, Harry, is also a professional wrestler.
Smith found success as both a singles and tag competitor, holding every major title in the WWF except the WWF Championship; he won titles within the promotion in three decades, from the 1980s to the 2000s. Never a world champion, Smith nevertheless headlined multiple pay-per-view events in the WWF and WCW, in which he challenged for the WWF- and WCW World Heavyweight championships. He defeated Bret Hart for the WWF Intercontinental Championship in the main event of WWE SummerSlam 1992 at London's original Wembley Stadium, and has the distinction of competing as WWF European Champion on the sole occasion where a match for that title headlined a pay-per-view event, at WWF One Night Only 1997. Prior to finding singles success, Smith achieved stardom as one half of The British Bulldogs tag team, alongside the Dynamite Kid.
See Also