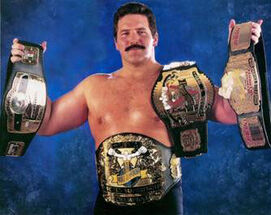 Daniel "Dan" DeWayne Severn (born June 8, 1958) is a retired American mixed martial artist and professional wrestler, notable for his success in the early years of Ultimate Fighting Championship tournaments. Severn has fought and wrestled for many mixed martial arts and professional wrestling promotions, including King of the Cage, PRIDE FC, Cage Rage, WEC, RINGS, MFC and the World Wrestling Federation. He holds a professional MMA Record of 101–19–7 and is a UFC Hall of Famer and a former UFC Superfight Champion.
In professional wrestling, Severn is a two-time world champion, having won the NWA World Heavyweight Championship twice, with his first reign lasting for over four years. As of September 2014, Severn still occasionally wrestles.
Severn also has the honor of being stripped of the NWA World Championship so that it could go to TNA.
In amateur wrestling, Severn was an All-American at Arizona State University and a U.S. Olympic Team alternate.
Atlantic Terror Championship Wrestling

Heavyweight Championship

Great American Mat Endeavors

Heavyweight Championship

Great American Mat Endeavors

Heavyweight Championship

Global Wrestling Alliance

Heavyweight Championship

National Championship Wrestling

Heavyweight Championship
National Wrestling Alliance United Kingdom Heavyweight Championship
NWA World Heavyweight Championship

Price of Glory Wrestling

Heavyweight Championship
See Also