Rebecca Quin (Irish: Riobhca Nic Choinn; born 30 January 1987) is an Irish professional wrestler, better known by her ring name Rebecca Knox. She is signed to WWE and works in WWE under the ring name Becky Lynch.
Quin began training as a professional wrestler under Fergal Devitt and Paul Tracey in June 2002, and made her debut five months later. Initially working in Ireland and occasionally teaming with her brother, she soon expanded her career into the rest of Europe. She wrestled regularly for the France-based Queens of Chaos promotion, and won the World Queens of Chaos Championship in 2006. She also wrestled for England's One Pro Wrestling and Germany's German Stampede Wrestling.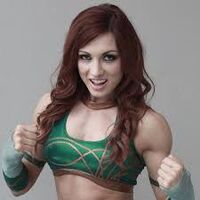 In 2005, she began wrestling in North America, and competed for the SuperGirls Wrestling promotion, an off-shoot of Extreme Canadian Championship Wrestling. She was the promotion's inaugural SuperGirls Champion and held the championship for 10 months and two days. She also appeared at ChickFight III, where she made it to the second round of the tournament. In 2006, she debuted for the all-female Shimmer Women Athletes promotion, and was involved in a series of matches with Daizee Haze, including an acclaimed two out of three falls match.
In September 2006, Knox suffered a head injury during a match in Germany, and was diagnosed with possible damage to her eighth cranial nerve. She was scheduled to return to wrestling in 2008, but no-showed the event, stating she no longer felt that wrestling was the right option for her at that time. She later returned to Shimmer as a manager in 2011, before signing a contract with WWE in 2013.
On 7 April 2019 at WWE WrestleMania 35, in what was the first time women headlined a WWE WrestleMania event, Lynch won both the Raw Women's Championship and SmackDown Women's Championship in a Winner takes all match against Ronda Rousey and Charlotte Flair, making her a double champion and the only woman to hold both titles simultaneously.
Queens of Chaos

World Championship

SuperGirls

Championship
See Also